Why Quality Is So Important
Why the Quality of the products in aroma care is so important - and how you can recognize it
When buying or using essential oils or ready-to-use flavoring mixes, it is often not easy to identify differences between products from different manufacturers.
How can you tell whether it is really a high quality product? What influencing factors are there and how can you assess the value of a single essential oil or a ready-to-use fragrance mixture yourself? Because I get these questions very often, the issue of quality is the focus of this issue.
THE BASIS: VALUABLE RAW MATERIALS
A meal is only as good as its ingredients. This is not only the case with cooking, but also with the production of essential oils. The seeds, climatic and temporal influences, but also different cultivation methods or the time of harvest have a major influence on the quality of essential oils. Also, where the plant grows makes a difference. Because a plant will always find the best conditions in its natural home and develop a special power due to ideal climatic conditions, perfect soil quality and the biological environment.
The nature of the soil is also decisive for the development of scents. For example, lavender feels most comfortable in sunny locations with well drained, nutrient-poor and stony soils. Acid soils, which are often found in loamy or peaty soils, are not ideal for the plant. Because organic farming supports biodiversity, i.e. plant diversity, and forbids the use of genetically modified seeds, we at PRIMAVERA only use raw materials from organic seeds.
The advantage for users: A thoroughly natural product with full plant power.
AS GENTLY AS POSSIBLE: EXTRACTION AND PROCESSING
Making high quality essential oils is a great art. There are many things to consider in order to achieve the best possible result. In addition to the criteria already mentioned, the time of harvest, the time of processing and the type of use of the plant material are decisive, as well as the duration of the distillation, the experience and competence of the farmers and distillers and many others.
I do not want to go into any of these points in detail here. Just a note on the subject of "productivity": This can vary greatly from plant to plant, with flower oils it is much lower than with leaf oils. Here is an example: To obtain one kilogram of essential rose oil, around 4,000 kilograms of flowers are required. On the other hand, around 100 kilograms of leaves are sufficient to obtain one kilogram of cajeput essential oil.
Basically, a distinction is made between the extraction methods between distillation by steam, water distillation, cold pressing and extraction. The vast majority of all essential oils are produced using steam distillation. The condensation water that forms during the distillation process contains traces of the essential oil and other heat-resistant and water-soluble components of the plant. It is the so-called hydrolate, which, due to its other ingredients, smells completely different from the essential oil.
The advantage for users: products that are carefully extracted and processed in harmony with nature.
TRUST IS GOOD, CONTROL IS BETTER
In order to guarantee a consistently high quality, essential and fatty vegetable oils should undergo strict laboratory controls on a regular basis. At PRIMAVERA, every incoming goods is put through its paces. For this purpose, the properties of each individual essential oil or care oil are first assessed as part of a sensory analysis. The products are checked for their characteristic scent, their visual appearance and their scent and care effect.
This is followed by various further test steps: These include, among other things, a sensory test of the smell and appearance, a density measurement, the determination of the peroxide number (determines the freshness) and a determination of the ingredients of the essential oils using a gas chromatograph with an integrated mass spectrometer. It is checked for contamination and adulteration.
If the quality assurance department detects a defect in the ordered raw material, the product will be complained about when purchasing and sent back. Thanks to the analysis method, blends with synthetic components can also be identified quickly.
The raw materials can only be released for further processing after a thorough examination. This ensures that users receive an impeccable.
The advantage for users: An absolutely flawless, high-quality product free of all impurities and residues.
OFTEN DIFFICULT TO UNDERSTAND, BUT IMPORTANT: DECLARATION AND CERTIFICATION
Essential oils should not contain any synthetic or "nature-identical" additives, but should be completely natural. Why? Because only in such oils the full power of the plant can develop. Synthetic, i.e. artificially produced fragrances, do not contain any vegetable information. So it is still not possible to "reproduce" natural essential oils, some of which contain several hundred substances and are therefore also referred to as multi-substance mixtures, in the laboratory.
High-quality, all-natural oils are exclusively obtained directly from the leaves, flowers, seeds, fruits, twigs and roots of the original plant and are not "stretched". They also do not contain any biotechnologically produced fragrances that can be described as "natural" by law.
But what about so-called standardized essential oils and how do they differ from natural essential oils?
100% natural essential oils come from the respective parent plant. They are natural and not changed. This information should also be found on the label. Fluctuations in the ingredients, which depend on the nature of the soil, the climate and the weather conditions during growth and harvest time, as well as the type of plant, are not "improved" at this highest quality level.
Standardized essential oils according to the Pharmacopoeia (DAB, ÖAB), on the other hand, are oils that have to comply with the standard of the country-specific pharmacopoeia in terms of their ingredients, the amount of ingredients and the density. These specifications guarantee an essential oil with constant ingredients and physical properties. If a natural essential oil does not meet this standard, nature-identical or isolated ingredients such as geraniol or menthol are added. But that means it is no longer a natural product.
As a user, it is often difficult to understand why some products are only advertised for a specific application, even though they could be used in a variety of ways. The reason for this is the EU declaration requirement: depending on the application for which a product is intended, different laws apply. The regulations within the EU stipulate that the manufacturer must decide on a certain form of application and make this clear in the labeling.
The following declarations are possible for essential oils:
Cosmetic agent (skin application)
If the essential oil for skin care is used externally on the skin, it is subject to the Cosmetics Ordinance or the EU Directive for cosmetic agents. The basis is the corresponding marking on the label, which is legally required. The information relates, among other things, to information on use and dosage.
Commodity (room fragrance)
As soon as the essential oil is used in a fragrance lamp, an electric fragrance device / streamer or similar for room fragrancing, it is considered a consumer item and is subject to the consumer goods ordinance. In connection with this, the essential oil is classified and labeled according to the Chemicals Act, the EU directives REACH (Registration, Evaluation, Authorization and Restriction of Chemicals) and CLP (Classification, Labeling and Packaging). Appropriate hazard symbols with hazard and safety information must then be listed on the label.
Food (aromatic cuisine)
Certain essential oils are also suitable for flavoring foods and can therefore be consumed . Regulations of the EU Food Ordinance must be observed here.
For the reasons mentioned, the sleeve or label of a product usually says either that the content is a cosmetic, a fragrance mixture for room scenting or a food. This information is flanked by corresponding, also legally prescribed hazard symbols.
The following information should also be found on the label: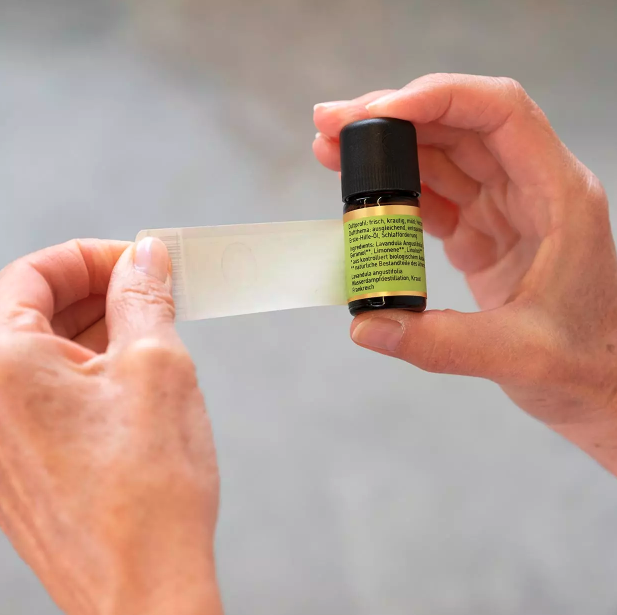 Country of origin
Botanical name
German plant name
Ingredients (INCI)
Extraction method
Part of the plant from which the oil was obtained
Production site and manufacturer
Independent certification (e.g. Bio, Demeter, Natrue)
Capacity
Shelf life after opening
Batch number
Pharmaceutical central number (PZN)
Usage and dosage instructions
Fragrance profile and fragrance effect
safety instructions

One more word on the subject of certifications and seals:
Admittedly, the large number of seals that have now been marketed does not always make it easy for users to find their way around. We at PRIMAVERA have made a conscious decision to work with a few selected, independent associations and certifiers, who check compliance with their guidelines at regular intervals by means of audits. This includes, among other things, the EU organic certification, which is only given to products whose ingredients come from at least 95 percent organic farming.
Our products also have Demeter and Natrue certification. Natrue is an international, not-for-profit association for the worldwide protection and promotion of natural cosmetics. As an independent standard, Natrue only recognizes natural cosmetic products worldwide that meet the highest standards in terms of naturalness, transparency and credibility. In the field of animal welfare, we have joined the IHTN because of the strictest animal welfare guidelines worldwide, which is the International Association of Manufacturers of Animal Welfare Certified Natural Cosmetics, Cosmetics and Natural Goods eV Its symbol is the rabbit with a protective hand.
The advantage for users: an all-round sustainable product that you can use with a clear conscience.
CLEAR DOSAGE INSTRUCTIONS FOR SAFE USE
Because essential oils are highly concentrated substances, it is important to use them in the correct amount for safe use. In addition, essential oils for skin care should never be used undiluted, but always mixed with a care oil. The basis here is the Cosmetics Ordinance.