Three Perfume Recipes!
We have been getting a lot of questions about making your own perfume! So we wanted to create a few different blends that could be integrated throughout your day! We have a Romantic blend, a Calming blend, and a Refreshing blend: each with their own benefits! In each blend, we use 15-20 drops of essential oils in a 10ml roller bottle and top them off with Jojoba carrier oil. Essential oils are powerful liquids and if used the wrong way can be dangerous to your health. We suggest only using 15-20 drops of essential oils so that you get all the good aromatic effects without negatively affecting your body. Our favorite carrier oil is Jojoba oil, because it is the closest to our skins constitution and therefore it absorbs more quickly.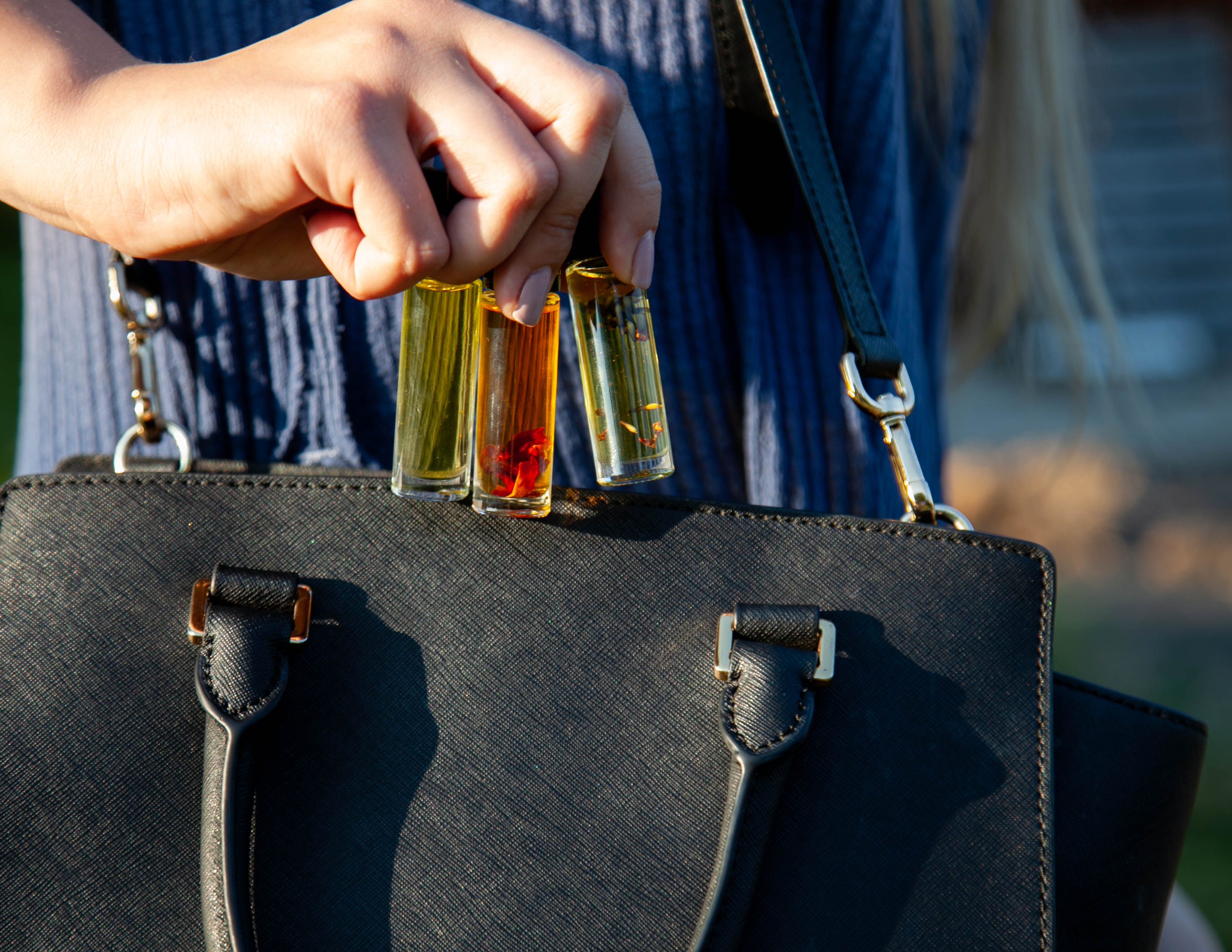 We love using the Romantic blend on a date or when we need a confidence boost! A combination of Rose, Ylang Ylang and Sandalwood are both harmonizing and grounding. Rose essential oils have a sweet floral aroma that is intoxicating. Ylang Ylang helps enhance your mood and encourages positive feelings. Finally Sandalwood, this special oil helps balance out the sweet aromas of Rose and Ylang Ylang with a more grounding scent. Sandalwood has been used for centuries in meditation for its grounding and uplifting properties. Here is what goes down in our Romantic blend.
Romantic Blend Recipe
8 drops of Rose
2 drops of Ylang Ylang Extra*
7 drops of Sandalwood
For the rosy color add 2 drops of Sallow Thorn Carrier Oil
Fill to the top with Jojoba oil
**We use Ylang Ylang Extra because it has the sweetest aroma of all the Ylang Ylang types. This particular oil comes out in the first hour of distillation and is created specifically for its scent! Ylang Ylang Complete, however, is distilled for 16 hours and contains more therapeutic properties.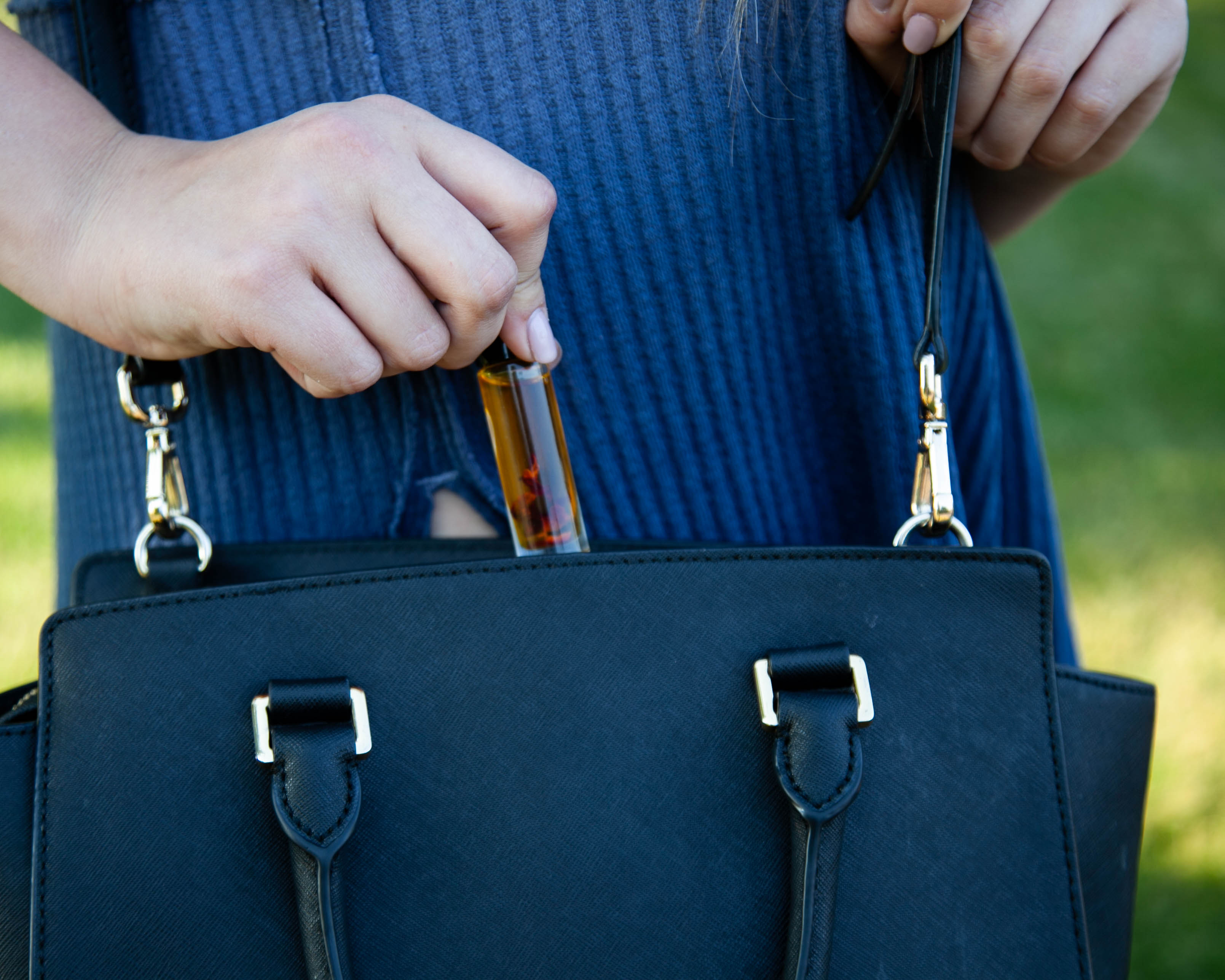 The Calming Blend is perfect at the end of a long work day or during a stressful situation. We like to use it during a long road trip when tensions feel particularly high! The scents of Lavender and Clary Sage mix with Roman Chamomile to create a wonderful soothing aroma. Lavender offers a fresh scent that helps relieve stress, relax, and promotes sleep. Clary Sage's strong scent helps balance the sweeter aromas of Lavender while lightening ones mood and calming the nervous system. Roman Chamomile, a favorite here at Goddess of Spring, has a warm herbaceous scent that helps relax not only the mind but the body as well. Here is what goes down in our Calming blend.
Calming Blend Recipe
5 drops of Lavender
3 drops of Clary Sage
8 drops of Roman Chamomile
Fill to the top with Jojoba Oil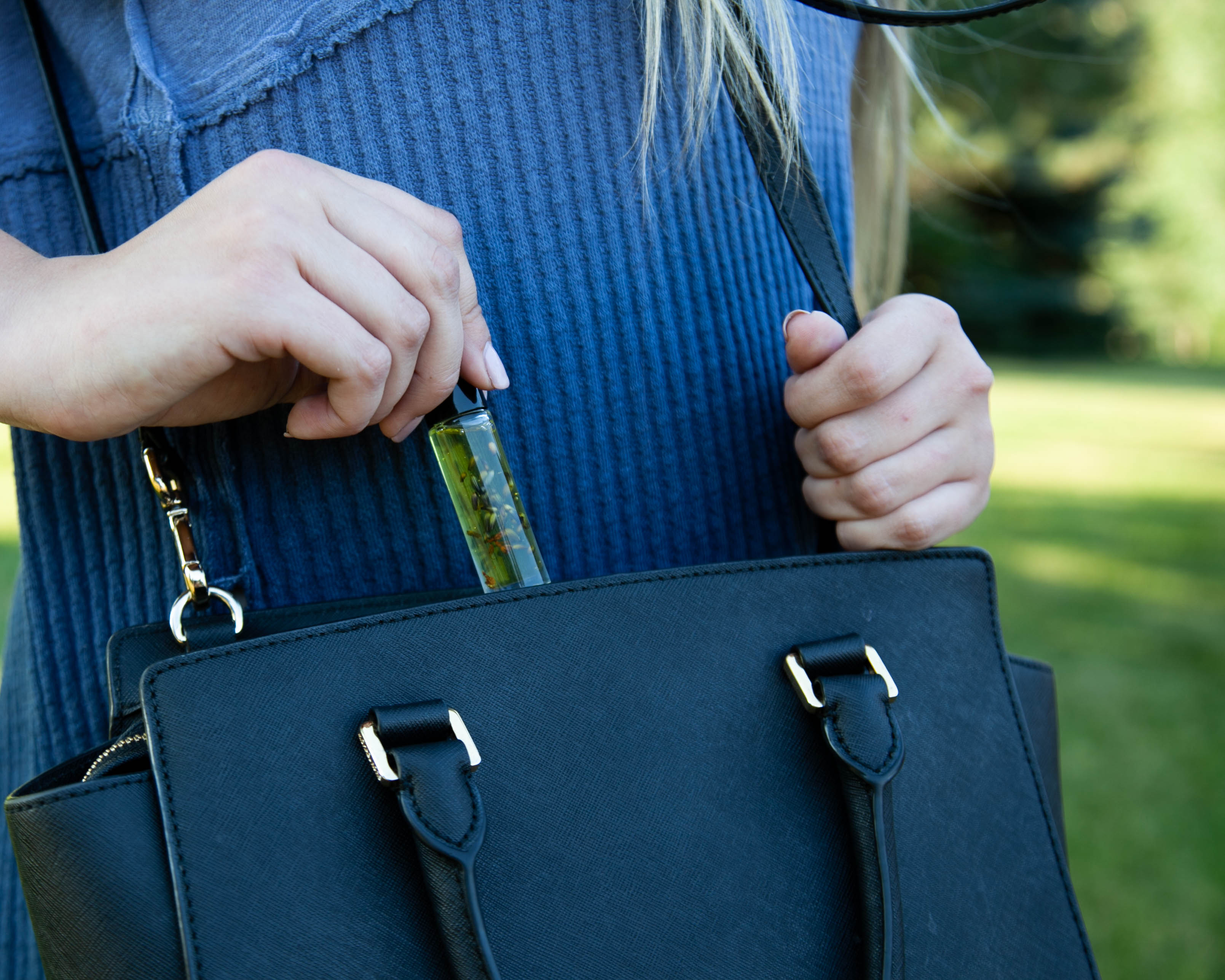 Now for our very favorite blend, the Refreshing blend! We love this blend at all times of the day for its uplifting scent. Giant Fir combined with Mint Moroccan, and Lime immediately transports you outside to fresh forest air. Our favorite time to use it is while we are in an airplane or an airport. It combats all the smells from everyone around you and also leaves you feeling refreshed. The invigorating scent of Giant Fir improves concentration and focus. Mint Moroccan has a perfect clean, minty aroma that clears brain fog and fatigue. We like it better than our other "mint" scented oils because of its sweeter aroma. Lime has a tangy fruity scent that instantly lifts your mood. Here is what goes down in our Refreshing blend.
Refreshing Blend
8 drops of Giant Fur
5 drops of Mint Moroccan
7 drops of Lime
Fill to the top with Jojoba Oil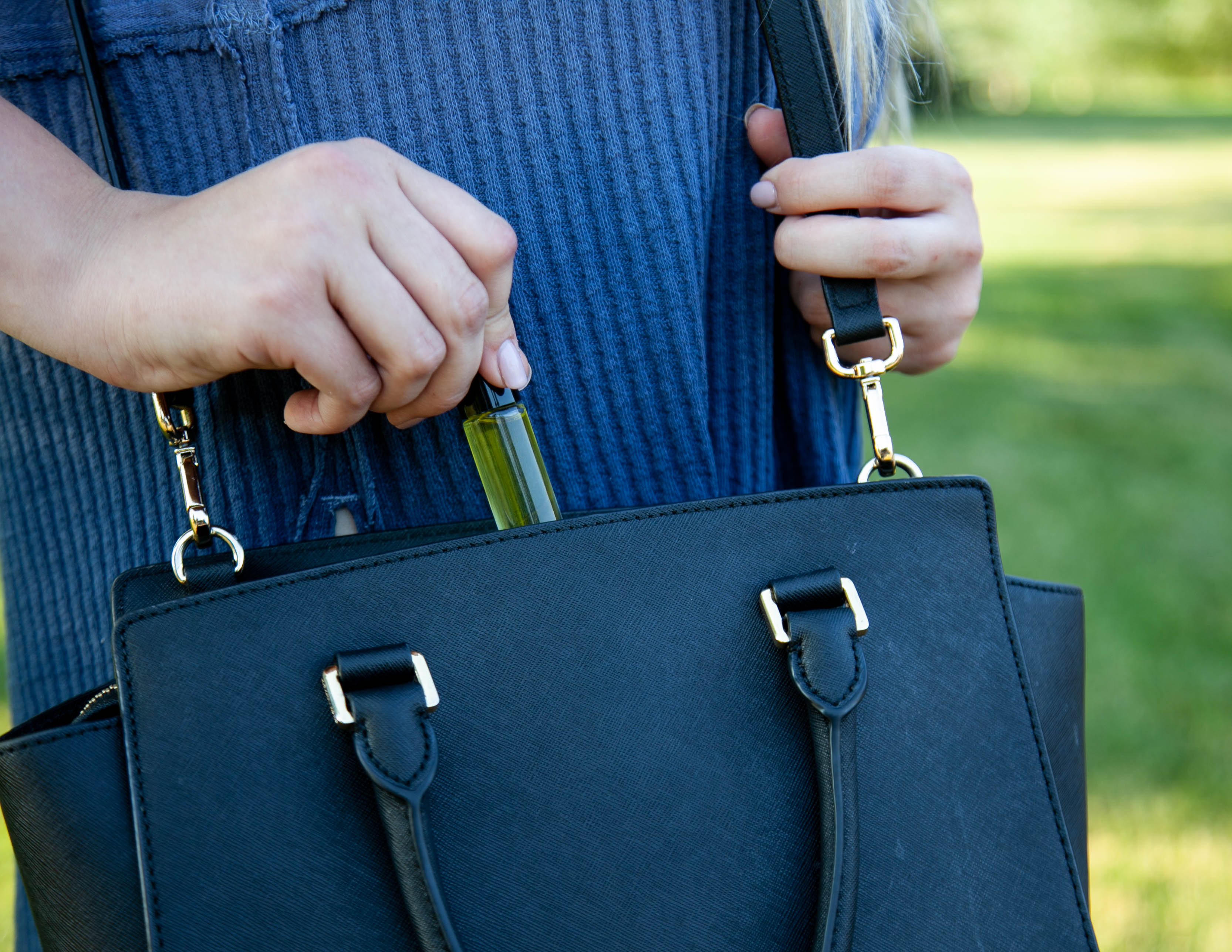 We hope you love these blends as much as we do! The roller bottles are perfect for throwing into a bag or even keeping in your back pocket on the go! We also love hearing about the blends you guys make. Tag us on Facebook or Instagram when you make a blend using our products!