Scientist: Essential oils can usefully complement medicines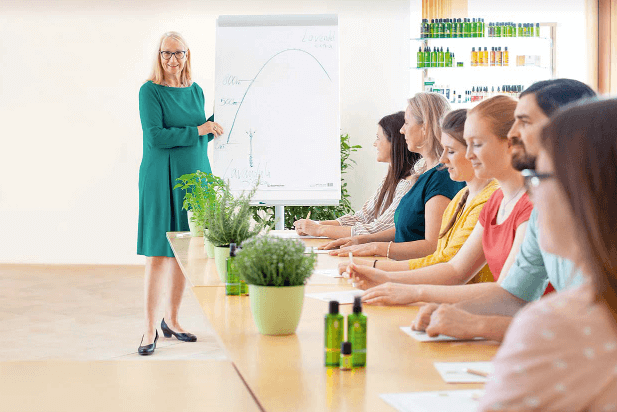 Ten leading scientists have published a position paper on the topic "Informed use of essential oils". As it says, essential oils can effectively and usefully complement the treatment of certain diseases with conventional medicines. They are also good for prevention. Because aromatherapy is harmless if the quality and application is appropriate, it is now an integral part of conventional medicine, for example in palliative care.
Ten leading scientists and doctors from different universities across Germany are behind the paper, which was published in the current issue of "Health Economics & Quality Management" by Thieme Verlag. Its aim is, on the one hand, to reflect the current study situation on therapy with essential oils and, on the other hand, to show possibilities and limitations based on scientific studies.
In detail it says:
Therapy with essential oils improves the quality of life:
According to the scientists, clinical studies show a significant improvement in the quality of life with therapy alone, but also with the combination of conventional medicine and the use of essential oils. Essential oils could significantly improve the quality of life in tumor diseases and alleviate the side effects of conventional therapy. In addition, the severity of the disease is significantly reduced.
Essential oils are safe:
when handled correctly, experience has shown that "only a few skin irritations of a mild and temporary nature can be observed". According to empirical medical assessment, therapy with essential oils is therefore particularly suitable for particularly vulnerable patients such as children, the elderly, those with multimorbidity and those treated with multiple medications.
Patients appreciate the beneficial effects:
Many people use essential oils and are very satisfied with their effects. This is known among doctors and therapists. "Satisfaction can be derived from clinical observations and long-term experience," say the authors.
The effectiveness has been proven experimentally:
Essential oils and their effects have been widely studied experimentally. Antibacterial, antiviral, fungicidal and psychological as well as wound healing-promoting, pain-relieving and anti-inflammatory effects of essential oils have been proven in relevant studies.
The effectiveness has also been clinically proven for some clinical pictures:
According to the scientists, there are clinically representative studies on a number of clinical pictures and symptoms. These include sleep disorders, nervousness, restlessness, anxiety, depression, nausea, vomiting, pain from various causes, menopausal symptoms and respiratory diseases.
The demand for essential oils is increasing:
The global demand for essential oils for use in therapy and prophylaxis is expected to increase to $8.2 billion by 2024 due to high demand. This corresponds to annual growth of more than 8 percent.